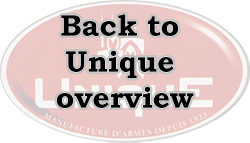 Technical Specifications


Calibre
22 LR
Overall Lenght
285 mm
Overall Height
140 mm
Overall Width
50 mm
Weight (without counter weight)
1140 g
Line of sight
220 mm long
Barrel
150 mm long
Trigger wright
1000 g
Magazine Capacity
5 or 6 shots
Sight Adjustments
Clockwise down.
Clockwise right.
1 click = 9mm @ 25m for elevation.
1 click = 6.5mm @ 25m for windage.
Trigger Stop
Vertical screw directly behind trigger (may be obscured by trigger shoe).
Trigger Weight
2nd vertical screw in front of trigger – inside set screw – turn clockwise to increase while leaving outer screw locked.
Sear Engagement
Adjusted by screw through rear of grip. Anti clockwise increases engagement.
1st Stage Travel
1st vertical screw in front of trigger. Clockwise decreases travel.