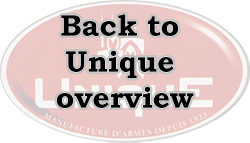 Technical Specifications

Calibre
22 LR
Overall Lenght
1030 mm
Overall Height
Overall Width
Weight (without counter weight)
2700 g
Line of sight
520 mm long
Barrel
600 mm long
Trigger wright
Magazine Capacity
2, 5 or 10 shots
Unique X-51 Rifle From the Dope Bag Archives Unique X-51 Rifle, May 1960.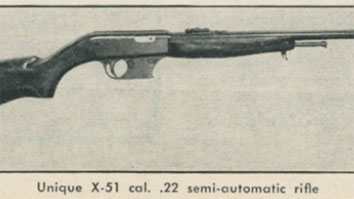 A semi-automatic .22 rifle designated Unique X-51 was recently introduced by the French firm Manufacture d'Armes des Pyrenees Francaises, and is imported by Firearms International Corp., 4837-R Kerby Hill Rd., Washington, D.C.
This arm, which is offered in standard and presentation grades, is an improved version of an earlier Unique .22 rifle which was sold in France for many years. It is of blowback type, and has a box magazine which is detached by pressing a catch on the left side of the trigger housing. The operating rod for retracting the bolt is at the front of the fore-end, and is similar to that of the Model 63 Winchester rifle. The crossbolt safety in the trigger guard is of conventional design.
Unusual Features
An unusual feature of this rifle is its magazine safety. Like that of many semi-automatic pistols it prevents firing when the magazine is detached. There is also a pin-type cocking indicator in the forward part of the trigger guard, which can be seen and felt except when the hammer is cocked. Another unusual feature is the fire selector knob on right side of trigger housing. If semi-automatic fire is not desired, the knob is rotated counterclockwise several turns, and the bolt will then stay open after each shot. Depressing the knob releases the bolt which springs forward and chambers a cartridge. According to the manufacturer, this device makes for ammunition economy and increased safety.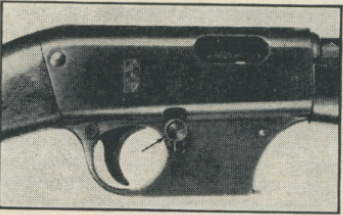 Excellent Quality
Quality of workmanship and finish is generally excellent. Except for sheet-metal magazine and fore-end cap, almost all metal parts are machined steel. Finish on interior parts is very good, and surfaces on exterior of rifle are nicely polished and blued. Buttstock and fore-end are well-polished dark walnut, and 7/8'' sling swivels are provided. The Buttstock is man-size, but the fore-end is rather short, especially for a shooter with long arms.
The presentation model of this rifle has chrome finish on receiver, trigger housing, operating rod, swivels, and fore-end cap, and the receiver and trigger housing are engraved. Buttstock is select walnut.
Takedown is easily accomplished by removing magazine, unscrewing a large coin-slotted screw on left side of receiver, and removing the bolt, trigger group, and buttstock as a unit from barrel, fore-end, and receiver. Bolt is pulled to rear and upward to separate it from trigger housing, recoil spring, and guide.
Functions Well
There were no malfunctions during our tests in which high-speed and standard velocity cartridges of several makes were fired. Accuracy was sufficient for plinking and small-game hunting which is the intended use of this rifle. The only drawback we noted was the creepy trigger pull which varied slightly from shot to shot. Despite this, the rifle handled well and was pleasant to shoot.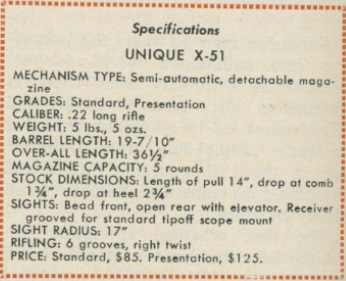 Source: https://www.americanrifleman.org/articles/2010/5/27/unique-x-51-rifle/